The Sustainable Development Goals in Nepal
Nepal committed to the SDGs early on, and this commitment has been reaffirmed in key policy documents, such as the current 15th Development Plan and the 25 Year Long-Term Vision 2100 that internalises the Goals. SDGs codes are assigned for all national development programmes through the Medium-Term Expenditure Framework. Further, Nepal has prepared the SDG Status and Roadmap to localize the SDG indicators with baselines and targets for 2030. Other key documents are a SDGs Needs Assessment, a Costing and Financing Strategy, and additional SDGs Localization Guidelines. Finally, Nepal has conducted a Development Finance Assessment (DFA) to provide an overview of development finance flows and institutions and policies that can align finance with national development priorities. These are the goals the UN is working on in Nepal:
Story
03 July 2023
UN Nepal Piloting PSEA Integration into Development Programming and UNSDCF Implementation
To prevent Sexual Exploitation and Abuse (SEA) at all levels and to ensure SEA is addressed as the top priority, the PSEA co-chairs in Nepal-UN Resident Coordinator Office and UN Women with the support from WHO- organized the first of its kind workshop on June 21-22 for the UN agency key focal points to capacitate them to integrate PSEA into the UN Sustainable Cooperation Framework (CF). The workshop piloted by the UN in Nepal brought together 32 participants from the PSEA Working Group and the CF Outcome Working Groups. Jointly the participants identified opportunities for PSEA to inform and be integrated into CF outcomes, processes, and tools. The participants also prioritised a set of key actions and recommendations for the Outcome Working Groups, PSEA Network and the UNCT. The 1.5-day workshop was facilitated by Lian Yong, Asia Pacific inter-agency PSEA Coordinator, together with Tej Maya Dangol, Nepal PSEA Coordinator and UN RCO and UN Women staff members. Feedback from the workshop was positive, as it enabled key agency focal points time and space to think deeply about opportunities within their own agencies as well as collectively for the UNCT. Lessons learned from this workshop will be taken and applied both at the regional Asia/Pacific level as well as globally. It is hoped that this pilot can be replicated in other contexts supporting the UN's move from PSEA at the policy level to concrete actions at the ground level.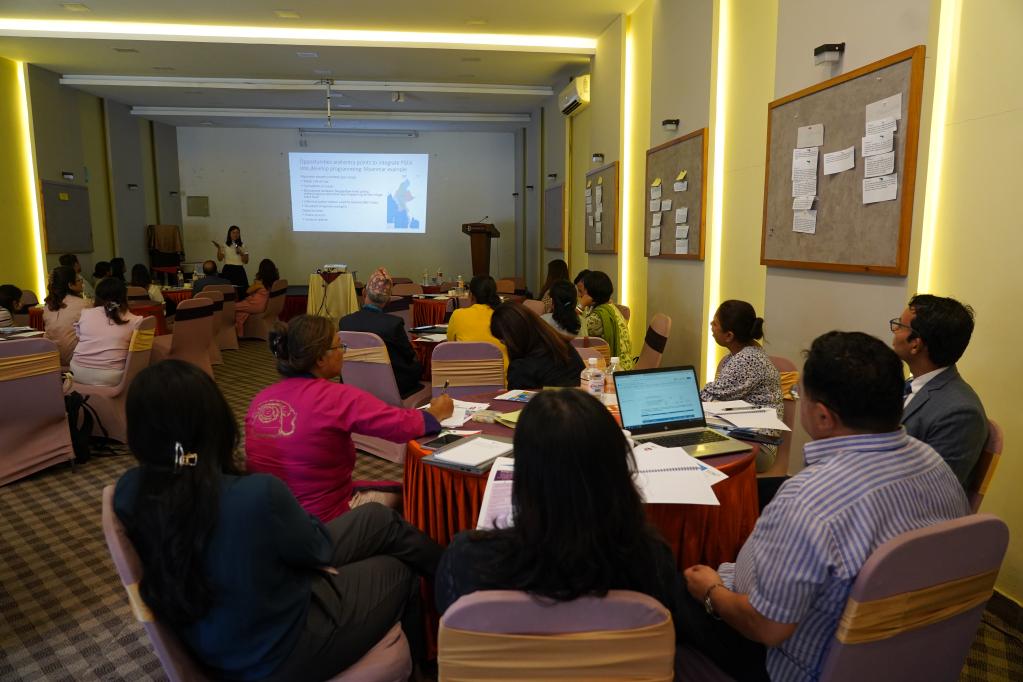 Press Release
03 December 2020
Oped : The challenges people with disabilities face
Richard Howard
The year 2020 has thrown unprecedented challenges at all of us, both in Nepal and globally. The pandemic has also impacted people disproportionally. Persons with disabilities that make up 15 percent of the world population, or one billion, are among the hardest hit by Covid-19. One in every five women is likely to experience disability in her life, while one in every 10 children is living with a disability. Of the one billion population of persons with disabilities, 80 percent live in developing countries. These numbers provide a backdrop for thinking about our response to Covid-19 and how we make a dedicated effort to ensure that people with disabilities are not left behind. We must ensure their inclusion in our response and recovery efforts. Some disabilities are not visible. Chronic pain, mental illness, chronic fatigue are a few types of invisible disabilities that control people's lives but do not show in obvious ways. These are people who are regularly told that their disabilities are not real, are made up for sympathy or only imagined and could not possibly be a real medical condition since they walk free from canes or crutches, have functioning limbs, and can seemingly move their bodies just like the rest of us. Society needs to be built so that it is accessible to everyone, including those with less visible disabilities. Nepali society, like most societies, should promote greater understanding and increased accessibility for people with disabilities, who are often treated differently or excluded from the opportunities and conversations open to others. They are pressed to navigate a world that is not built for them. Kindness, compassion and consideration are a good start to ensure that we see and support those who may struggle and suffer in normal times and in times of crisis. When this pandemic passes, the world must be a different place, and it is a chance to reimagine a society in which people with disabilities have better lives; where they do not have to fight to be seen and included, and where they are not merely an afterthought. People with disabilities should participate in our response and recovery from Covid-19 at all stages, and they should hold us accountable to deliver on our promises. On this International Day of Persons with Disabilities, I hope that we can all begin to envision a society that everyone can participate in, one that changes how we see and interact with disabilities as equal partners, particularly those with invisible disabilities. It is a chance to build back better and challenge inequalities at every step. A big step in the right direction is to break the silence, speak up and wipe away the biases held against people with disabilities, to banish the stereotypes, and slowly dissipate the stigma facing people with disabilities. These changes start with each of us making a commitment. There are myriad ways in which the world can transform to remove obstacles for people with disabilities to access the opportunities the rest have, from access to economic opportunity and healthy workspaces to accessible infrastructure and health services.
Richard Howard
Howard is the UN Resident Coordinator ad interim in Nepal and is the Director of ILO Nepal
Story
12 October 2020
Young Girls in rural Nepal are choosing early marriage to escape poverty and discrimination
The zinc sheet roofs, mud huts and wooden pillars of Namuna Basti shows poverty reigns. Namuna Basti is a labyrinth of lanes with 55 closely packed housing units inhabited by impoverished Badi community- the poorest and most marginalized groups (Dalits) in Nepal who are also considered the "untouchables". It lies just out of eyesight from the nearest bigger town in the Karnali Province. In the community, young women with children are a common sight. About 90 percent of the women from Namuna Basti are married before the age of 20, which speaks to the alarming prevalence of child marriage here. An Arial view of Namuna Basti. Child marriage in Nepal is driven by a complex web of factors., Key among them is caste-based and gender-based discrimination, especially when combined with poverty. In Nepal's rural communities, parents often choose marriage for girls because, once married, daughters customarily leave their homes to enter into their husbands' household and cannot financially support their parents like their sons. It leads families to prioritize education and even basic survival needs, such as food, for boys over girls, which is one of the reasons why child brides and their children are more likely to be malnourished. Due to the existence of a deeply embedded patriarchal norms and unequal power relations, Nepal has a high prevalence of deeply-rooted traditional practices such as caste-based discrimination, chhaupadi and menstrual restrictions, child marriage, dowry, and witchcraft accusation and persecution. These practices often create significant barriers to the realization of human rights, particularly for women and persons from excluded groups. Despite significant advances in legislative and policy frameworks made over the past few years, these practices continue to pervade in Nepal. In 2018, in recognition of these practices being barriers to realizing the UN's commitments to Agenda 2030 and the principle of Leaving No One Behind, the United Nations Country Team in Nepal with the support of DCO innovation funds carried out a Perception Survey on five of the above-mentioned practices. The survey, conducted in 16 districts within Province 2, 6 and 7 covering 4,000 respondents, was led by the United Nations Resident Coordinators Office in Nepal. Rama (name changed), a 22-year-old girl from Namuna Basti was born into a Badi family. Due to poverty her parents could not afford her education. She started working in India as a full-time maid at the age of 13. She had to spend more than 12 hours a day doing household chores, and she was desperately looking for an escape from her everyday hardship. With the hope to live a better life, seven years ago, she married the person she loved at the age of 15, despite the minimum age requirement for marriage being 20 years old under the Nepali Law. Her husband was 25 Rama's husband belonged to the so called "upper-caste" Kshetriyas (also called Chhetris). In Nepal, the influence of caste — a social order rooted in Hindu scriptures and based on an identity determined at birth — cannot be disregarded. In the perception of caste hierarchy, Brahmins and Chhetris remain at the top and Dalits, who make up almost 13.6 percent of Nepal's population of more than 27.33 Million, are at the bottom. Due to this perceived hierarchy, discrimination based on caste remains pervasive. From the Perception Survey carried out by the UN, among the 4,000 respondents from 16 districts, 97% indicated that they have accepted the prevalence of caste-based discrimination in their locality. Following their marriage, Rama returned to Nepal with her husband and began living with her in-laws. Being a Dalit woman, Rama was at high risk of experiencing both caste- and gender-based discrimination at her husband's house. Fortunately, however, Rama's husband protected her and facilitated her to be accepted as a member of the family. Rama became pregnant almost immediately after her marriage. Knowing that pregnancy could be risky for Rama at her young age, her husband insisted to abort the baby. But she remained adamant and gave birth to their first child when she was just 16. Within just five years of her marriage, her life took an unexpected turn, when a tragic road accident killed her husband. Following the death of her husband, her in-laws began verbally abusing her and forced her to work endlessly. Rama left her husband's house along with her children and began living with her mother in Namuna Basti. Rama is now a 22-year-old widow and is a sole bread winner for her family. With poverty, lack of education and discrimination based on her caste that she faces every day, giving a decent life to her children is a constant struggle. In the same Basti, Seema Badi (name changed) lives two houses apart from Rama. Seema, just like Rama, is a child bride who chose to get married on her own. She eloped with her boyfriend, who was two-class senior to her in school, when she just became a teenager. Her mother initially brought Seema back from her boyfriend's house and asked her to focus on her education and wait until she gained some maturity. To her mother's dismay, Seema left the house for the second time to be with her boyfriend. And what drove her to do that? "To escape from poverty, discriminatory social norms and a desire to avoid a forced marriage to a stranger" was her answer. "My mother was giving birth every other year. I had to support her either by babysitting my siblings or supporting the household chores. At school, I faced discrimination from my peers and my teachers for being a 'Badi girl'" lamented Seema. Recalling one of the incidents in school she said, "one day a big commotion took place in my class when I accidently touched my classmate's tiffin box. Since she belonged to the upper-caste, my teacher thrashed me in front of my peers. That very moment, I lost faith in our education system and I tore my books in front of my teacher and left the class. I never returned to the class again." Seema, who is 21 and a mother of an 8-year-old girl, shares she is content with her present life. Her husband is working in the gulf country to make the ends meet for the family and pay for their daughter's education. "Together Forever" says Seema with happiness as she shows the initials of her husband and daughter's name inked on her left hand. She however feels she could have achieved more had she listened to her mother and not eloped for the second time. But the societal pressure was one of the factors that constrained her from staying with her mother. "The rumor about me eloping with my boyfriend has already spread in the community. So, the only choice I had was to go back to the person I love because no one would have accepted me as a wife later," shared Seema. Seema does not want her daughter to repeat her same mistakes. She wants to invest in her daughter's education so that her daughter can achieve her full potential. But the growing trend of voluntary "love marriages" among teenage children in marginalized communities, often prompted by the desire to escape poverty and discrimination, scares Seema. Seema's fear is not unfounded. The Perception Survey showed that 90% of the 4,000 respondents acknowledge that voluntary love marriage (Bhagi Bibaha) among minors is prevalent in their locality, while 19% indicated the continued prevalence of an arranged marriage (Magi Bibaha) among minors. According to UNICEF, 15 million girls are married as children globally each year and Nepal has the third highest rate of child marriage in Asia, after Bangladesh and India. The trend of young girls like Seema and Rama choosing early love marriage to cope with poverty and discrimination not only exposes them to a vicious cycle of inequality and insecurity, but also perpetuates the practice of child marriage, creating an obstacle to global development. A 19-year-old girl from Dailekh district with her two children. Child marriage is a core development and human rights issue which is directly linked with eight of the seventeen Sustainable Development Goals (SDGs), which are Goals 1 (poverty), 2 (food security), 3 (health), 4 (education), 5 (gender equality), 8 (economic growth), 10 (inequality), and 16 (peace). Ending child marriage and investing more into the child's future is therefore an indispensable responsibility of Nepal to ensure that it fully achieves the SDGs.