Press Release
The UN and Government of Nepal Calling for Renewed Ambition and Action for the Sustainable Development Goals
16 August 2023
The Government of Nepal, National Planning Commission and the United Nations in Nepal, jointly kicked off the SDGs Acceleration Visioning workshop to rally for the Sustainable Development Goals (SDGs), the roadmap for people and planet adopted by member states in 2015.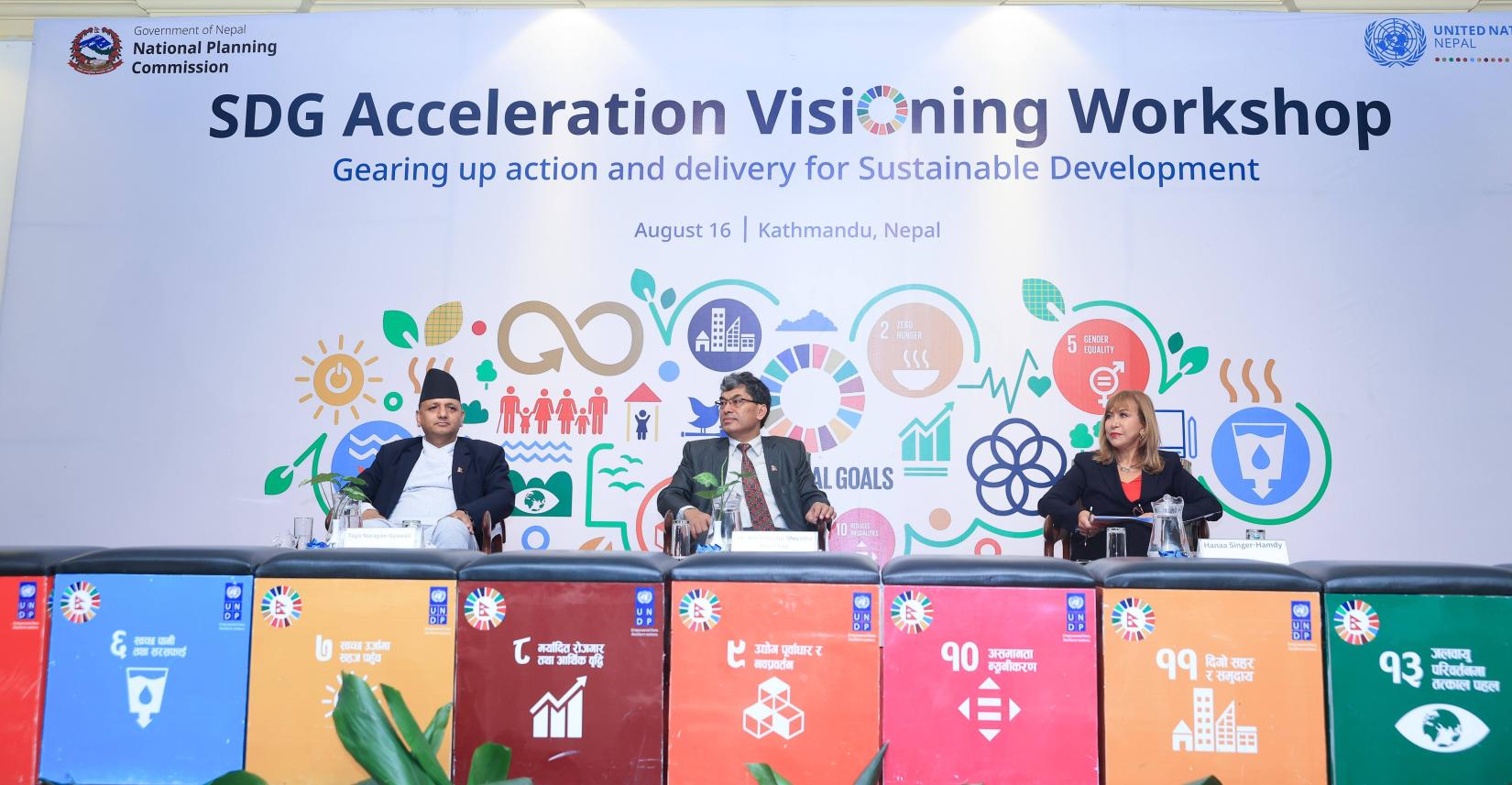 Ahead of the SDG Summit in September, the SDG Acceleration Visioning Workshop aims to review the status of the SDG Progress in Nepal and identify priority areas for SDGs acceleration and outline roadmap for strategic actions. It also aims to launch nationwide campaign on SDGs to mobilize multi-stakeholders, including provincial and local governments, private sector, civil society, and development partners to ramp up efforts to accelerate progress on SDGs.
"The Government of Nepal is passionately internalizing the SDGs through the current 15th plan and its regular programs and policies. Nepal have identified key areas that hold the potential to catalyze economic transformation, leading us towards SDG attainment and irreversible graduation from LDC status." Said Dr Min Bahadur Shrestha, Vice Chair of the National Planning Commission. "Our focus is on enhancing production and productivity within our economy, generating skilled human capital, and creating inclusive employment opportunities including a robust emphasis on quality education, accessible healthcare systems, sound infrastructure, responsible urbanization, social empowerment, inclusivity, social security, increased capital expenditure, biodiversity preservation, and effective governance." Dr Shrestha added.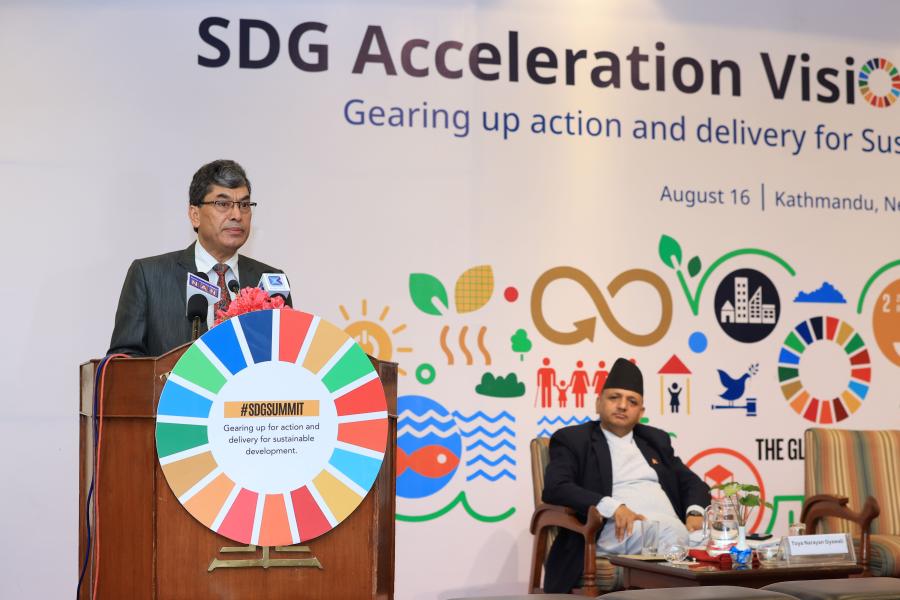 For the first time in decades, development progress is reversing under the combined impacts of climate disasters, geopolitical tension, global economic slowdown, and lingering COVID-19 effects globally. At halftime towards the deadline of 2030, the promise of the SDGs is in peril with just 12 percent progress globally. This means that people and the planet are in deep crisis, and hence, the renewed commitment on the SDGs is more needed now than ever before. This workshop is therefore expected to outline the national commitment of Nepal.
Speaking at the workshop, the UN Resident Coordinator in Nepal Ms. Hanaa Singer Hamdy said, "The SDG progress is not about lines on a graph. It is about healthy mothers and babies; children learning the skills to fulfil their potential; and parents who can feed their families.  It is about a world in which everyone enjoys human rights and human dignity." She further added, "The road ahead to achieve the SDGs globally and in Nepal is still a bit steep. But it is one we can, must and will achieve- together – and for the people we serve from all parts of this incredibly beautiful country."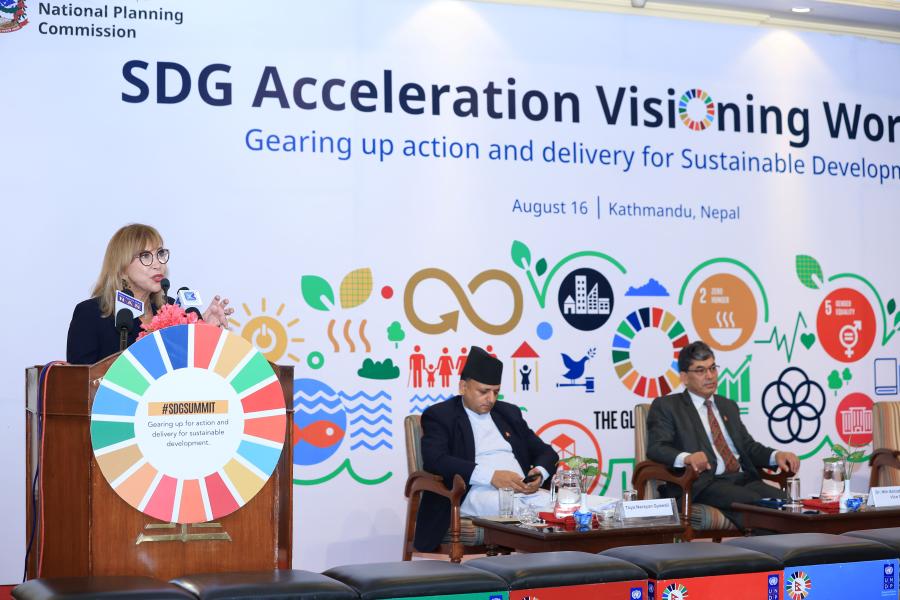 The National Vision for SDG Acceleration that will be prepared through consultative process based on the outline coming from this workshop will be presented to the global leaders as Nepal's commitment at the 2023 SDG Summit being held at the United Nations Headquarters in New York on 18-19 September. The summit will reaffirm collective commitments of the world leaders to the Goals and the promise to leave no one behind. This Summit is a defining moment to urgently put the world back on track to achieving the SDGs.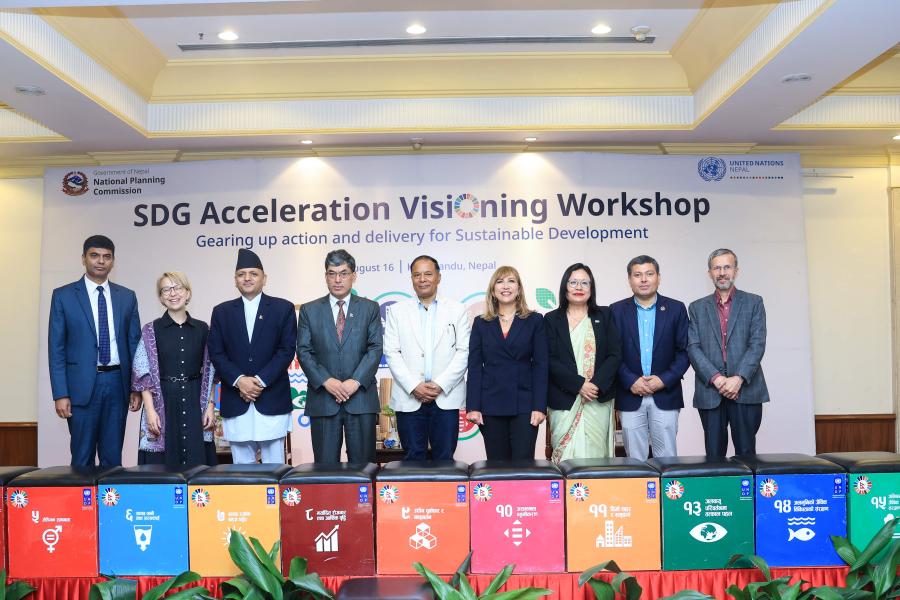 Media Contact:  
Suman Dahal: Joint Secretary/Spokesperson; National Planning Commission;Email sdahal@npc.gov.np  
Simrika Sharma: National Information Officer; UN Information Centre; Email simrika.sharma@un.org
UN entities involved in this initiative