COVID-19 Hotlines in Nepal busting harmful myths on coronavirus disease
Ain Bahadur Gurdhami is one of the operators of COVID-19 hotline services jointly set up by Epidemiology and Disease Control Division in coordination with WHO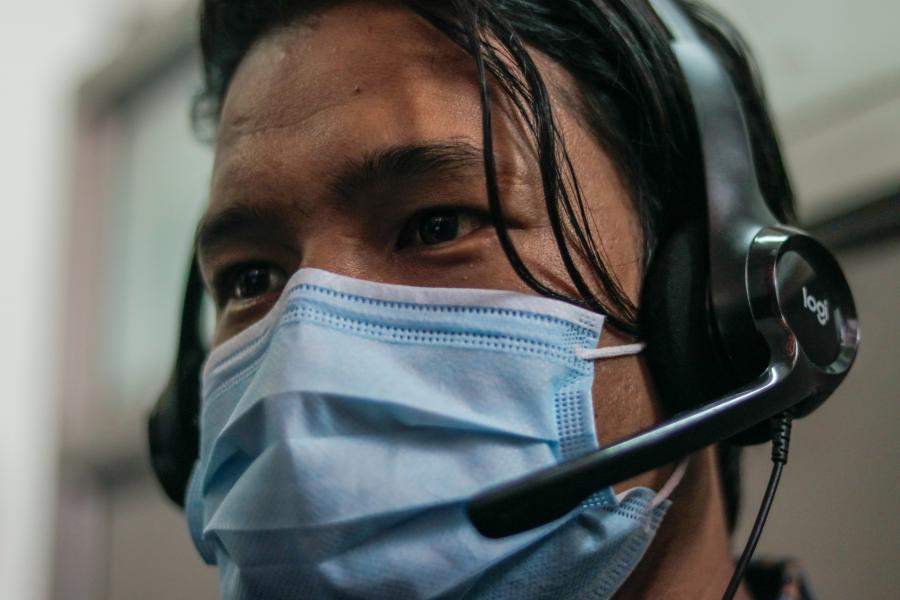 Ain answers about two hundreds phone calls every day, fielding questions regarding Covid-19, its cause, symptoms, how it spreads and precautions to limit its spread. However, Ain also receives numerous enquiries about COVID-19 remedy much of which is misinformation and myth about the disease.   
How effective is drinking hot lemon water? What is the frequency of eating turmeric, ginger and garlic?  These are some of the common questions Ain and his fellow operators receives almost on a regular basis.
This shows there is still a growing misinformation about the disease surfacing social media.
To counter this spread of harmful rumours, Ain, a 24-year old-Graduate as Health Assistance, duly records the name, age and location of the caller and guide them to distinguish between true and false information.
"I feel good to provide accurate information to people and to contribute in stopping the spread of rumours. But in addition to the information I also provide counselling services to those callers who panic a lot due to the stress caused by the disease", opines Ain.
Since March, the month the helpline was instituted until July, the hotline numbers have received over 298005 calls and answered 160441 queries related to COVID-19. The hotline phones have not only met the needs of those people who do not have access to reliable information online but also helped in curbing the spread of the misinformation. 
UN entities involved in this initiative
FAO
Food and Agriculture Organization of the United Nations
IFAD
International Fund for Agricultural Development
ILO
International Labor Organization
IOM
International Organization for Migration
UN Women
United Nations Entity for Gender Equality and the Empowerment of Women
UN-Habitat
United Nations Human Settlements Programme
UNAIDS
Joint United Nations Programme on HIV/AIDS
UNCDF
United Nations Capital Development Fund
UNDP
United Nations Development Programme
UNESCO
United Nations Educational, Scientific and Cultural Organization
UNFPA
United Nations Population Fund
UNHCR
United Nations High Commissioner for Refugees
UNV
United Nations Volunteers
WHO
World Health Organization