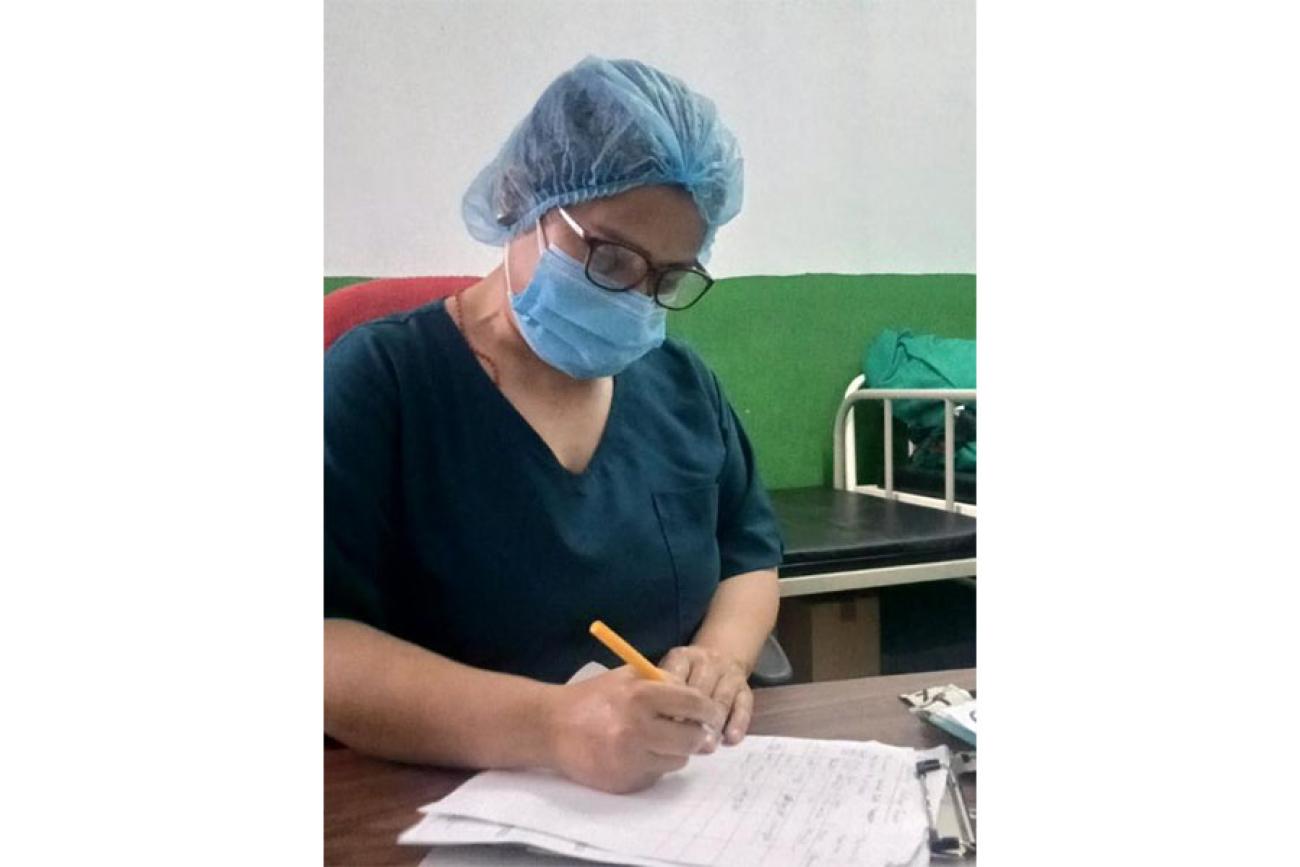 Healthworker Rachana Silwal Basnet, who has been treating COVID-19 patients in a hospital in central Nepal, talks about the urgent need for vaccine availability
Bhaktapur, Nepal: For the past month, a team of four healthworkers have been at the forefront of COVID-19 treatment at the Changunarayan Hospital in Bhaktapur District in central Nepal. Working in pairs for week-long shifts at a time, they have been monitoring and attending – 24 hours a day – to patients admitted to the COVID-19 ward. At the end of a given week, the working pair then go into self-quarantine in the hospital's quarters, while the next duo takes over.
One of the members of this COVID-19 team is senior auxiliary healthworker Rachana Silwal Basnet. During the first wave of the pandemic in 2020, Rachana had been active in running the health facility's fever clinic – geared at screening people with COVID-like symptoms – as well as heading out in the community to collect swab samples.
Back then, Changunarayan Hospital had functioned more as a referral facility, directing patients testing positive to the nearby Dhulikhel Hospital for treatment. But when the country was engulfed by a second wave this year, arrangements were made to set up a 10-bed COVID-19 ward in the building.
"We wanted to make it easier for locals," Rachana explains. "We didn't want them to have to have to travel far for treatment, and risk worsening their conditions or losing their lives in the process."
However, with cases peaking in May, the hospital struggled to accommodate all incoming patients for a time. "The ward was full, so we had to put up some beds in the passageways for a while," Rachana says. "It wasn't ideal but we didn't have a choice."
Fortunately, even at this stage, Changunarayan was spared the fate of many other hospitals around the country in terms of shortage in oxygen supplies, largely thanks to the proactive support of the local government who were able to ensure timely refilling of cylinders, according to Rachana.
So , what has the experience of working directly with COVID-19 patients for the first time been like for her? "I've found that once you put on the PPE, enter the ward and start your shift, your work mode takes over and you don't have time to think," she explains.
"You carry out your duties just as you would any other time with any other patients."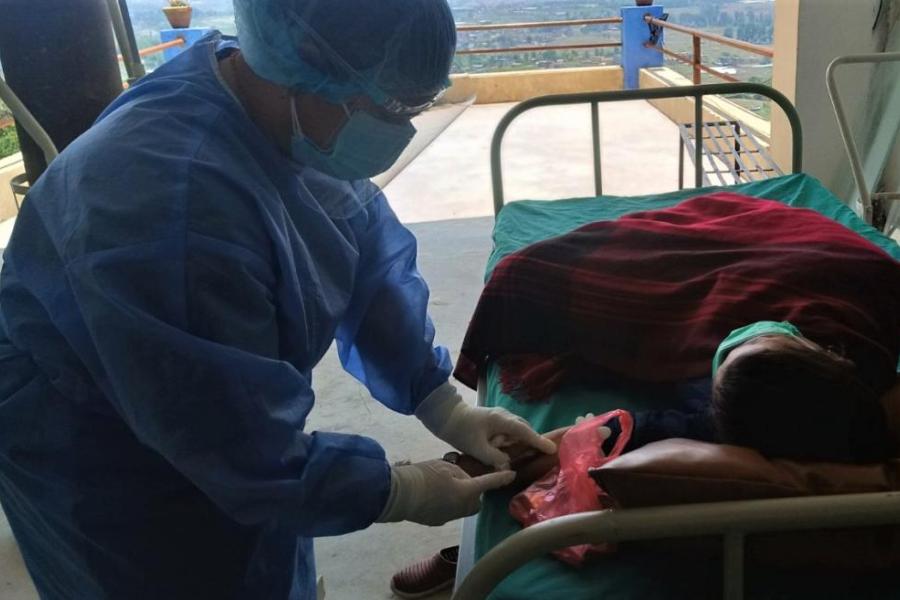 But when she isn't working, reality hits hard and fear often sets in – less about her own safety, but more about her family. That fear has been compounded by the fact that Rachana's husband, also a healthworker, had gotten infected and only recently recovered from COVID-19 himself. Although the family was lucky in that his symptoms were never quite so severe to require hospitalization, it was a difficult, emotional time for Rachana.
"It was there at the hospital, and now it was in my home," she says of the disease. "It was like I couldn't escape it anywhere."
Indeed, the exhaustive, high-risk, prolonged nature of the crisis, particularly the ongoing second wave, has exerted a huge physical and mental toll on healthworkers around the country. This is further exacerbated, Rachana says, when one hears about healthworkers being targets of violence and misconduct – such as in a recent incident at the Bheri Hospital in Nepalgunj where hospital staff were assaulted by family members of a COVID-19 patient who had just passed away.
"Of course, as medical staff, you're trained to put your responsibility to the patient over all else…. but at the end of the day, we're human too," Rachana says. "And many of us are reaching breaking point."
Right now, Rachana and her colleagues have rested all their hopes on vaccines becoming available more widely. But the persistent delay in supply worries her a great deal, especially given that there are over 1 million vulnerable people – primarily the elderly above 65 years of age – still waiting to get their second dose.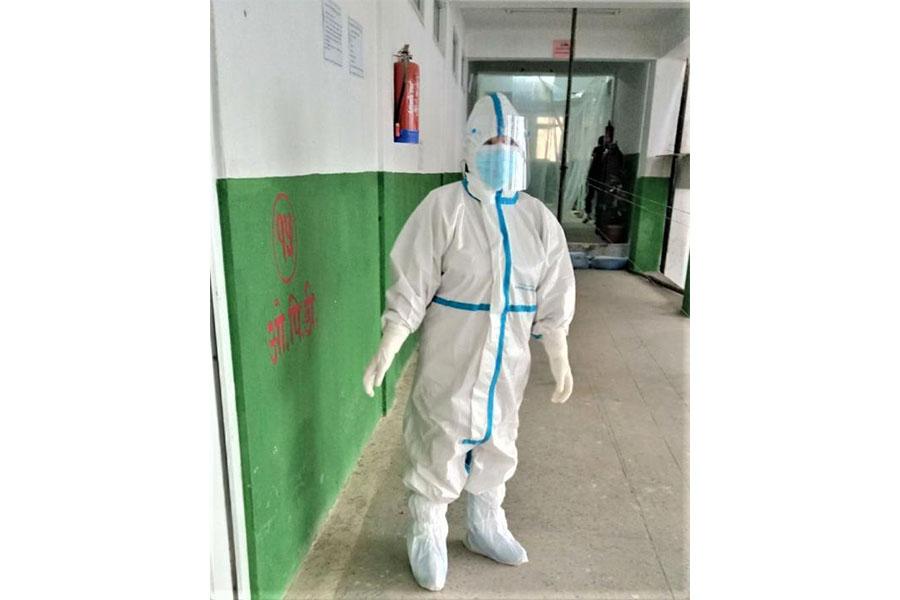 "I request richer nations to donate some of their extra vaccines to Nepal, at least enough to cover this second dose," Rachana says. "We can't leave all these people hanging."
Even though fewer people are today being admitted to the COVID-19 ward at Changunarayan than a few weeks ago, the crisis is far from over, according to Rachana – particularly with the possibility of a third wave waiting in the wings.
"Vaccines are our only way out of the pandemic – we need to do everything we can to secure enough doses for everyone."
UN entities involved in this initiative
UNICEF
United Nations Children's Fund