Immunization, a force for survival
A health professional in Gorkha District in north-central Nepal reflects on the lessons that COVID-19 has to teach about the importance of vaccines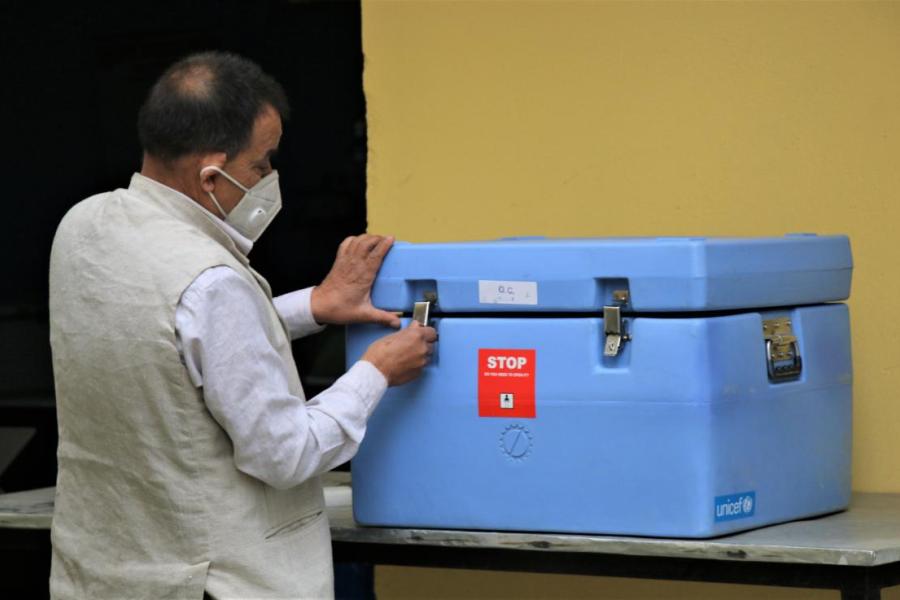 Photo | UNICEF Nepal/2021/PShrestha
Gorkha, Nepal : "We couldn't have made the kind of progress we have in reducing child mortality in Nepal if not for vaccination. Think of how things were one or two generations ago …. Vaccines have dramatically improved children's chances of survival since then."
Rishi Ram Khatri is the cold chain inspector at the Government of Nepal's District Public Health Office in Gorkha in north-central Nepal. Having spent close to two decades working with his team to ensure the supply of life-saving vaccines around the district, he says he cannot emphasize enough the importance of a strong cold chain system in bringing vaccines to the children who need them the most.
"Vaccines are incredibly powerful, but they are also very sensitive," he says. "The 'cold chain' is made up of all these different processes that keep vaccines at a safe temperature during their journey from the manufacturer to the community."
It was precisely to better facilitate that journey that UNICEF and global health partners like Gavi have been working with the Government of Nepal over many decades to improve the country's cold chain capacity. This has included the installation of vaccine cold rooms and refrigerators at health facilities around the country, and provision of cold boxes and carriers, besides other forms of technical and logistical support.
That support was further fortified after the 2015 earthquake, in which Gorkha, as the epicenter, was hit hard. Besides support in rebuilding critical health infrastructure, health facilities in Gorkha and other affected districts were also provided additional cold chain equipment and assistance to ensure that routine immunization services could continue.
And today, those efforts are proving all the more crucial, with the launch of the vaccination campaign against COVID-19.
"This pandemic has shown once again how important it is to invest in building the cold chain system," Rishi says. "Basically, without vaccines, there is no cold chain, and without the cold chain, there is no vaccination."
The best chance we have
Inside the vaccine store room at the District Public Health Office, Rishi is in the process of counting out vials of COVID-19 vaccines to be packed in a cold box headed for the Bhachhek Health Post a few hours away. 
Bhachhek is among the several health facilities around the district that have been designated as immunization centres for the latest phase of the vaccine drive, which started on 20 April.
On 7 March Nepal received 348,000 doses of the COVID-19 vaccine as part of the first consignment from the COVAX Facility, a partnership between CEPI, Gavi, UNICEF and WHO, made possible through generous donor support from governments, international organizations, foundations and the private sector. The COVAX-supported vaccines are being distributed in this phase of the campaign, in which healthworkers and frontliners are being administered their second and final dose.
Rishi has also just gotten the second dose himself, and is feeling "extremely relieved", a feeling he says has been heightened by his own brush with the disease in the second half of 2020.
"After I got infected, I had to be kept in the ICU for over two weeks," he recalls, explaining how scared and lonely he had felt during that time. "My condition was very critical and I was afraid I would die alone without getting to meet my wife and children."
Thanks to the efforts of the hospital staff who were treating him, however, Rishi recovered, although he says he still feels some lingering effects. His memory is not as sharp as it used to be, and he sometimes has difficulty breathing.
The entire experience, he says, has been a major motivating force for him in pushing forward with work on the ongoing vaccination campaign. "This is the best chance we have had in a long time to push back against the virus," he says, although he emphasizes that the vaccine alone cannot be expected to end the pandemic. "Even after getting vaccinated, we need to continue to practice safety measures like wearing masks, washing our hands and avoiding crowds."
"It's not easy, but we need to be patient and cautious."
UN entities involved in this initiative
UNICEF
United Nations Children's Fund