Press Release
UN Agencies Launch a Joint Emergency Response to Earthquake in Western Nepal
06 November 2023
Jajarkot, 6 Nov 2023: Days after 153 people were killed and several hundred injured, another strong earthquake with 5.6 magnitude struck Nepal on November 6, 2023.
On November 3, 2023, a 6.4 magnitude earthquake struck in the Jajarkot and Rukum Districts of Karnali Province in Nepal causing widespread damage. With the completion of the government's search and rescue operation, the number of deaths stands at 153 (Male: 70, Female: 83) and 338(Male: 138, Female: 200) injured. The initial findings of the Government's Initial Rapid Assessment (IRA) launched on 05 November say over 4,000 homes were damaged in the hardest hit districts.
Following the initial assessment of the remote damage assessment of available secondary data satellite images USGS data and earthquake risk model, around 1.3 million people might have been exposed and about 0.25 million people may need humanitarian assistance within 72 hours of the earthquake.
In response to the earthquake - the largest to impact Nepal since the 7.8 magnitude earthquake in 2015 - United Nations agencies have been providing temporary shelter, food, and non-food items as part of a comprehensive and urgent response to the pressing needs of the affected communities.
Speaking about the joint UN Response, the UN Resident Coordinator and Humanitarian Coordinator, Ms. Hanaa Singer - Hamdy said, "The government has immediately responded very effectively with search and rescue operation. Despite geographical remoteness and a difficult operating environment, the UN agencies and humanitarian partners are on the ground supporting the government's efforts by reaching out to around 3000 households with food, shelter, WASH, protection, and health support. More than 382 aftershocks were reported forcing people to spend nights in the open or makeshift shelters in freezing overnight temperatures. The impact of this latest earthquake is compounding the difficulties and vulnerabilities of communities with low socio-economic indicators and stretched coping mechanisms."
The World Food Programme (WFP) is providing logistics support to the Government and humanitarian partners through the Humanitarian Staging Area, as well as has rapidly dispatched 6 metric tonnes of ready-to-eat emergency food to the affected areas, helping provide sustenance for approximately 7,500 beneficiaries over three days. The World Health Organization (WHO) is supporting local and national authorities to respond to the health needs of the affected population and has deployed two basic modules of the interagency emergency health kits to provide crucial aid.
UNICEF is dispatching critical emergency supplies to the affected areas and supporting response efforts to reach the most vulnerable children and families. As of 5 November morning, UNICEF distributed 1,067 sets of tarpaulins and 1,300 pieces of blankets to the affected population, with additional sets dispatched (3000). To avoid disease outbreaks, UNICEF is providing Water Sanitation and Hygiene supplies consisting of hygiene kits - bucket, mugs, water purifier (Piyush) and temporary toilets for the displaced populations in the two most affected districts.
The United Nations Population Fund (UNFPA) has deployed medical supplies and other supplies for women and girls to ensure that their basic sanitation, menstrual hygiene and sexual and reproductive health needs are met in the midst of the disaster. Recognising protection needs of the affected communities, UNFPA in collaboration with other agencies also focuses on ensuring gender-based violence response and referral mechanisms are in place while mobilising response workers, including counsellors and community-based psychosocial workers.
UNDP has committed resources for early recovery, including deploying human resources to the Provincial Emergency Operation Centre for vital information management. Preparations are underway for the use of drones to assess earthquake damage and deployment of structural engineers and volunteers for assessing damaged structures.
UN Women is collaborating with women's groups to support Community Kitchens and provide relief packages. The agency is gearing up to provide essential supplies for women and children, thermos units, water purification equipment and support for pregnant women.
IOM is providing collaborative assistance to the Provincial Government for response and has deployed human resources to support the Provincial Emergency Operation Centre with information management. Shelter and NFIs are planned to be distributed to support the displaced population in close coordination with federal and provincial ministries and local levels.
The UN emphasizes the importance of a unified and rapid response to alleviate the suffering caused by this crisis. The collaboration with the government and local authorities remains steadfast in ensuring effective and efficient aid delivery to the affected regions.
#
For Further Information contact:
Simrika Sharma
National Information Officer
UN Information Center
Email: simrika.sharma@un.org
Tel: 5523200 Ext. 1510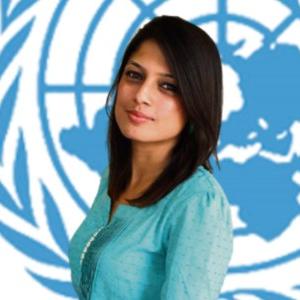 Simrika Sharma
RCO
National Information Officer at UN Information Centre
UN entities involved in this initiative
RCO
United Nations Resident Coordinator Office