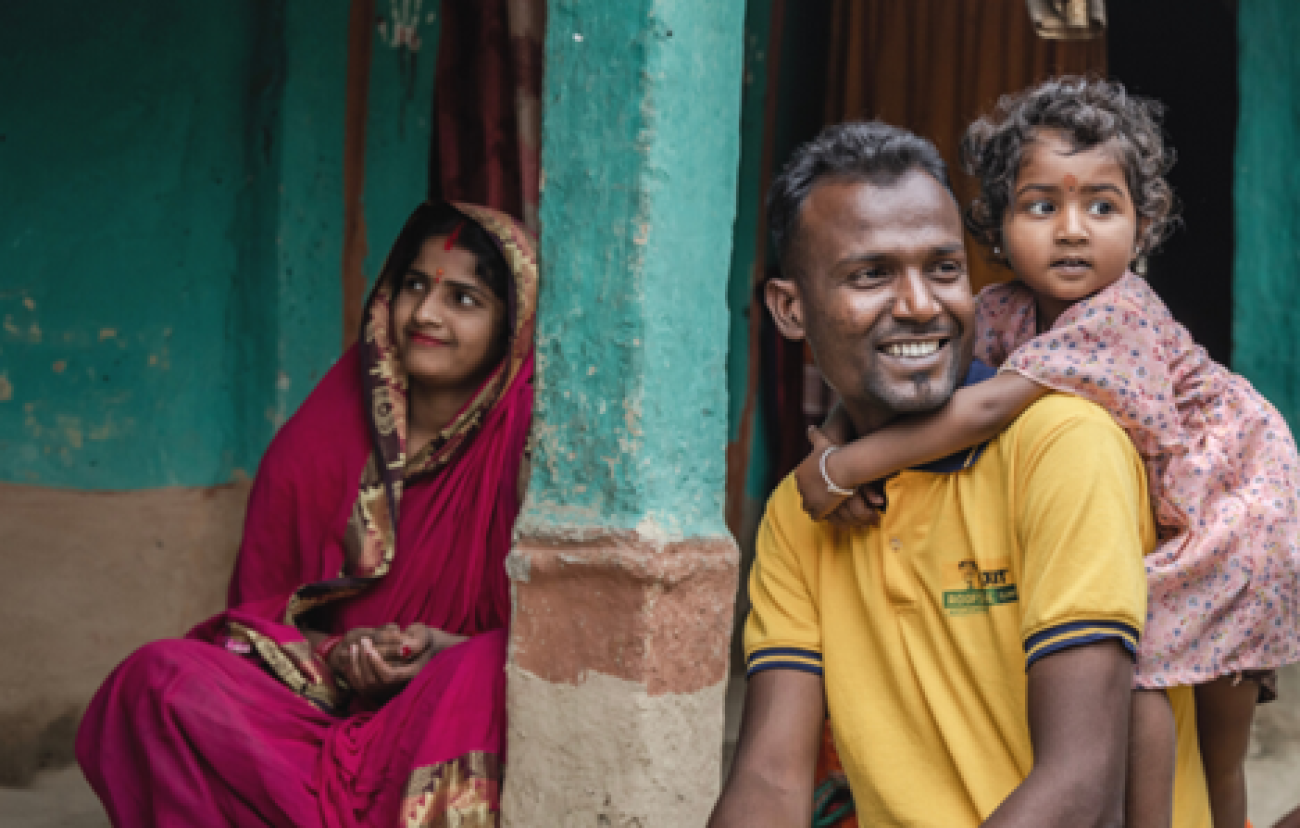 In a courtyard with 12 small bungalows surrounded by harvested haystacks, families in the Morang district depend on seasonal agriculture for their livelihoods
In a small courtyard hidden behind walls of corrugated sheets sits 12 tiny bungalows. Decorative pieces of small orange crocheted blankets hang from the doors providing a bright contrast with the pastel-coloured walls and dark wooden doors. Dozens of haystacks are littered across the horizon following the harvesting. Inside this small compound freshly picked garlic cloves are laid out on a ground mat drying in the midday sun. It is a familiar scene in the district of Morang where families such as these rely on seasonal agricultural work for incomes and sustenance.
In this compound three married couples are sitting together in the shade of the bungalows, encircling a trained facilitator, discussing their participation in a UNFPA programme to support families resolve conflicts they might experience in their households. These 'couple discussions' aim to promote healthy relationships and develop non-violent conflict resolution skills and positive masculinities in families and communities. These are particularly important in this area where unemployment rates are high and money can be in short supply in each of the families. Finances are a major source of conflict in marriages.
"After attending we are much more able to deal with the conflicts in our families" says Reena Paswan who has attended the sessions for ten weeks. She continues "we have learnt how to live more harmoniously in our homes and communities and as couples we know that we need to promote well-being in our relationship to prevent minor issues blowing up into something that might cause conflict in our marriages."
For the couples, they have learnt how to communicate better and manage internal conflicts and other challenging situations that often come up in relationships. A skill learnt during these couple dialogues is how to negotiate within a couple and this means that these couples can now confidently convert a negative situation to an affirmative one by presenting one another's point of view in the argument forward clearly during conflicts.
Sessions, however, do not only focus on conflict and the partners all reflect on how it has led to changing attitudes in their families. "My mother-in-law was initially against the idea we should attend. She changed her mind only when she was invited to attend and this means today, she encourages us to fully participate, in our communities." It has also built up more confidence in this important family relationship because generally couples live under one roof "I am also encouraged to be more outgoing and there is more trust in me to make important decisions for the family that creates better relations amongst us."
The family unit is also growing. Previously the men in this group left household chores and childcare solely to wives. This is now changing "we have learnt that both partners in a marriage can share domestic chores" explains Ramesh Paswan who is holding his three-year old daughter playfully rocking in his arms. Adding "we now understand that we need to also include our wives in decision making and also think about consent before initiating any intimacy or sexual activities."
There is also a strong community focus in the programme that is supported by UNFPA's partnership with the Royal Norwegian Embassy in Kathmandu and Swiss Agency for Development Cooperation. All the couples sitting in the courtyard knew each other before attending the sessions as they are neighbours and live in small tight knit communities. The sessions have brought them closer as they share the good things as well as the challenges in their relationships. The couples explain that "when we see other people in the community being violent, we talk with them and educate them about the right thing to do, and support women that experience violence so they can respond."
UN entities involved in this initiative
UNFPA
United Nations Population Fund