Story
Boosting children's immunity: Vitamin A campaign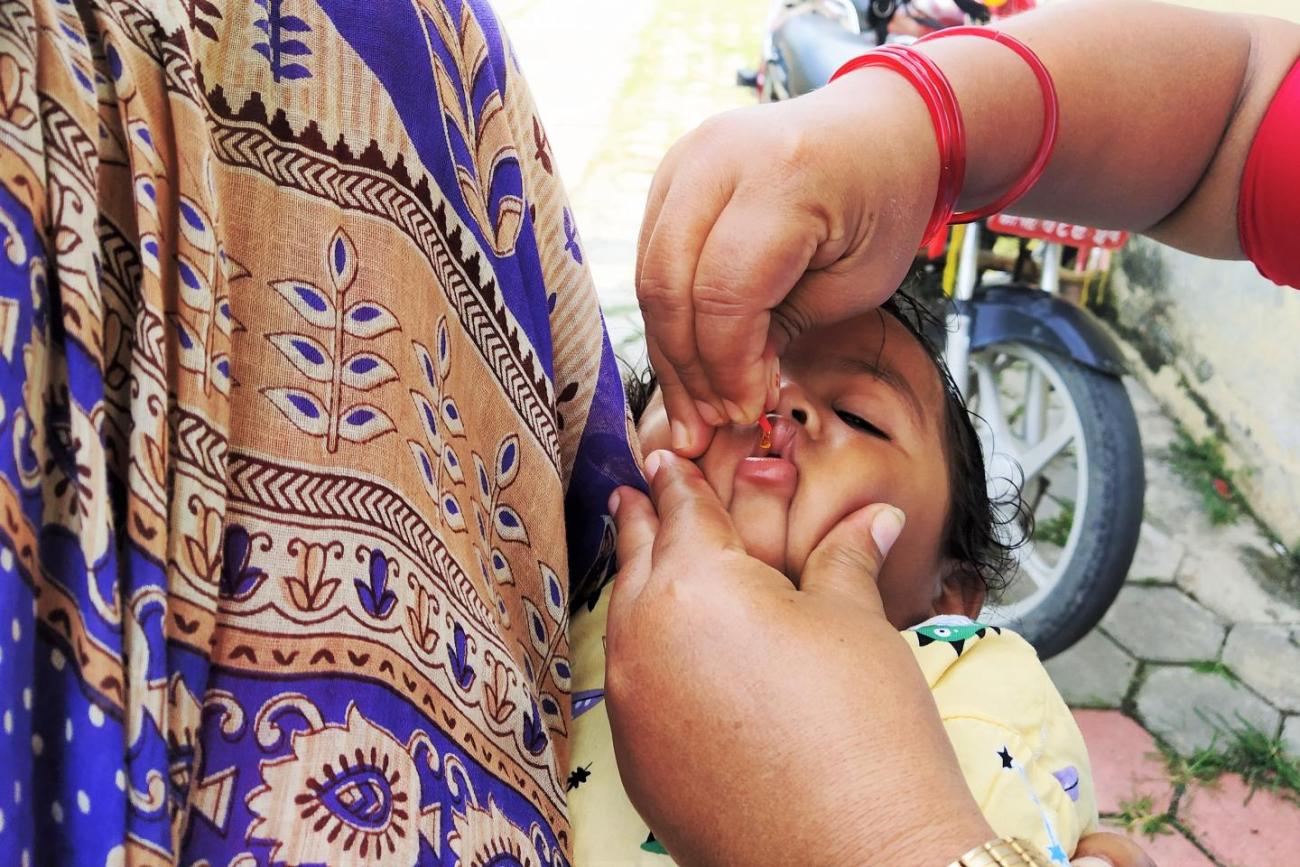 UNICEF's Youth Advocate Pallavi Karn reflects on her first-hand experience observing female community health workers engaged in a vitamin A campaign in Nepal.
Morang, Nepal: For over a decade, Rama Basnet and Matrika Acharya have been working as female community health volunteers or FCHVs in Biratnagar Metropolitan City in Morang District in eastern Nepal. Throughout this time, 40-year-old Rama and 45-year-old Matrika have been actively engaged in activities geared at monitoring and strengthening the health and nutrition of children in their community.
These activities have included screening for malnutrition using the mid upper-arm circumference tape, and raising awareness among caregivers and educators regarding the Golden 1,000 Days – the critical window between a woman's pregnancy and the child's second birthday that profoundly impacts their ability to grow, learn, and have a healthier future. As part of these efforts, the two FCHVs have also been participating in the national vitamin A campaign on a regular basis.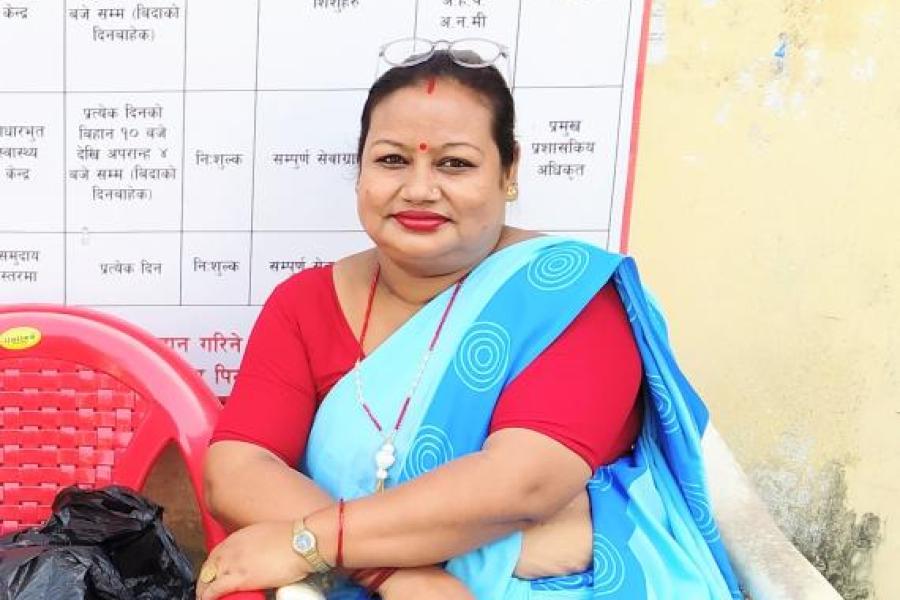 "We remember going door-to-door to remind mothers about the importance of the vitamin A capsule for children," Rama says. "Being able to share that knowledge, and protect children from future health complications, makes me very happy."
That enthusiasm was evident during the most recent vitamin A drive held in October 2021 where I was able to meet and shadow Rama and Matrika as they worked, attending to caregivers who had brought their children to the distribution site, as well as informing and inviting other parents who were passing by to do the same.
Information about the campaign, which also included other nutrition-related interventions integrated with vitamin A distribution – such as malnutrition screening, provision of Baalvita or micronutrient powder, as well as deworming tablets – had been disseminated to the community via posters, pamphlets, miking, as well as social media and Viber by local government health officials. Teachers, families and local non-governmental organizations were also mobilized to spread the message. And FCHVs like Rama and Matrika were also a crucial part of this outreach, thanks to the ties and trust that they have established with families in the community.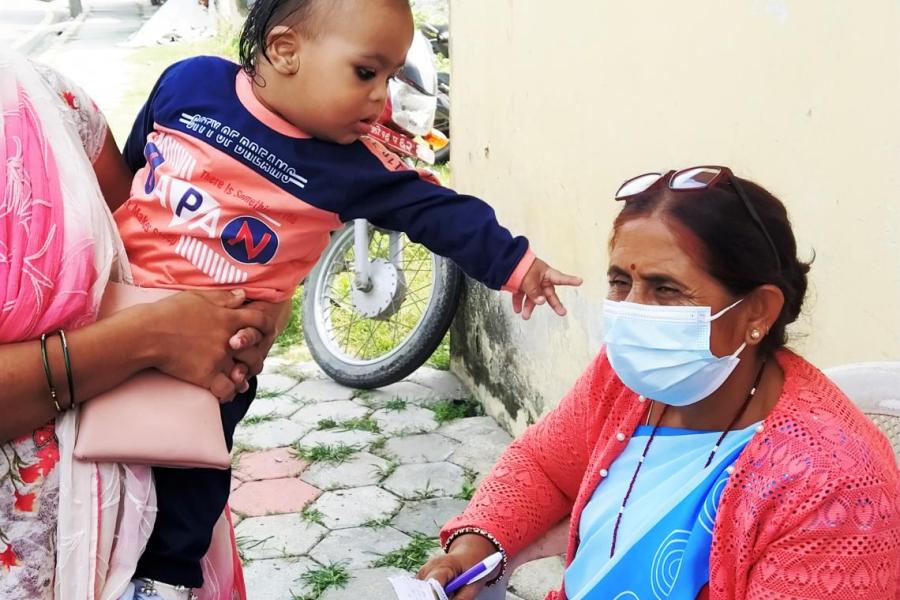 "We also orient mothers in villages nearby about how to help prevent malnutrition in children," Matrika explains. "And when we come across children suffering from severe acute malnutrition during our screening drives, we direct them to the nutritional rehabilitation center in Rani for proper care and treatment."
Vitamin A supplementation helps maintain strong immune systems, as well as reducing the incidences of diarrhoea and measles in children and preventing blindness and hearing loss. The national vitamin A drive is among Nepal's most successful nutrition programmes and have been reaching children aged 6 to 59 months across the country for many decades.
I am grateful to have been able to observe the drive up close in the field, and spend some time learning about the role that FCHVs like Rama and Matrika play in the programme's success, particularly in influencing people through social mobilization and communication. The experience has inspired me to pen the below poem:
वर्षमा दुई पटक, महिनामा दुई दिन,
बैशाख र कार्त्तिक महिनामा आउनुहोस् एकछिन
आयो भिटामीन ए क्याप्सुल हजुरकै वडामा
जानुहोस्-जानुहोस् छिट्टै समयमा
५ वर्षमुनिका बालबालिकाका लागि
ख्वाउनुहोस् भिटामीन ए आँखाका लागि मात्र होइन रोगहरूबाट बच्नका लागि।
Pallavi is UNICEF Nepal's Youth Advocate for Nutrition.
UN entities involved in this initiative
UNICEF
United Nations Children's Fund