Story
Sparking conversations in communities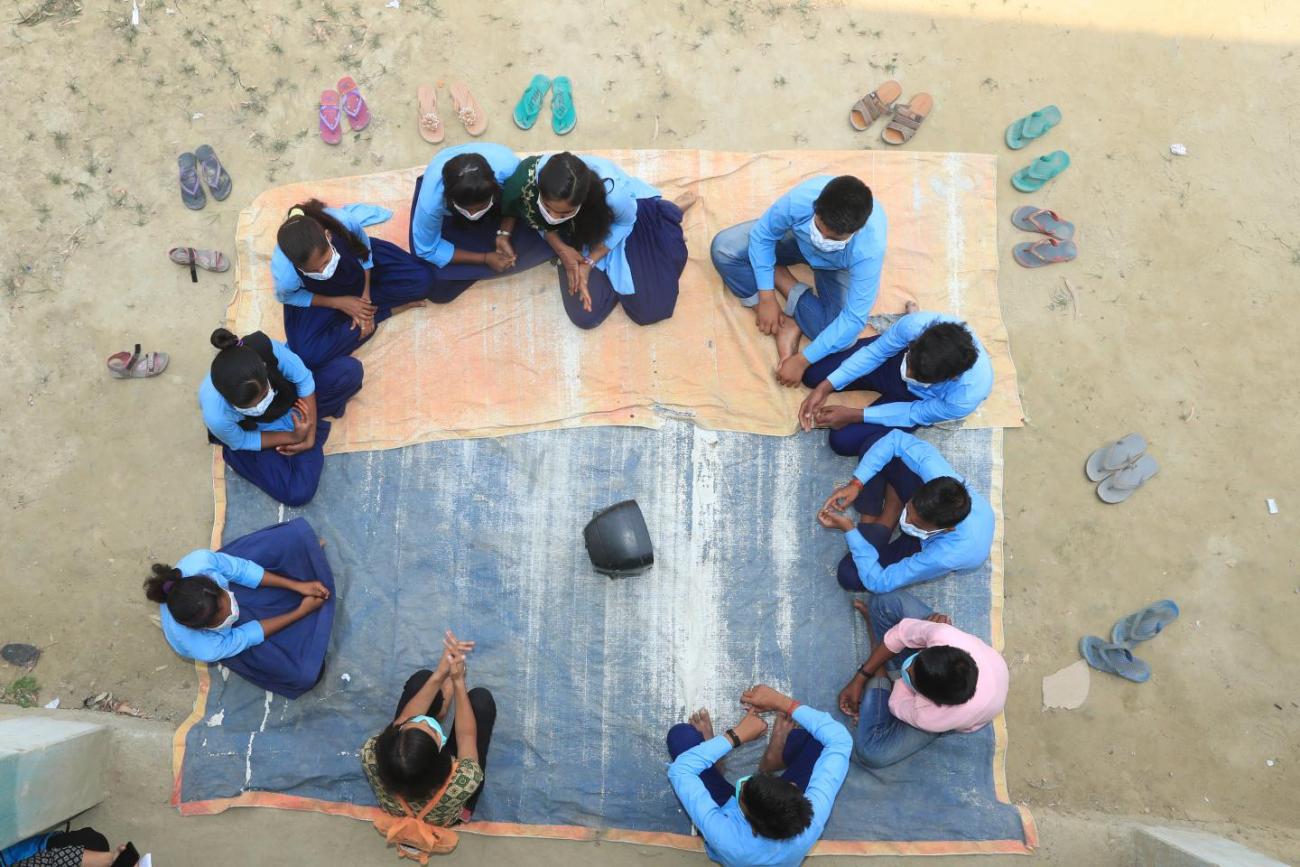 In Nepal's south, the UNICEF-supported Rupantaran radio programme is helping a young girl find strength and support to speak up on issues that matter the most
Parsa, Nepal:
"It shouldn't be that if you're a girl, you can only do certain things, and if you're a boy, you have to do other things. Anyone should be able to do anything they are good at."
That's 13-year-old Sakila Khatun voicing her thoughts during a discussion with a group of her schoolmates, as they sit together in the courtyard of the Shree Nepal Rashtriya Basic School in Parsa District in southern Nepal. The students – a mix of seventh and eighth graders – are talking about the deep-rooted nature of gender roles and expectations, and the harms these can invite.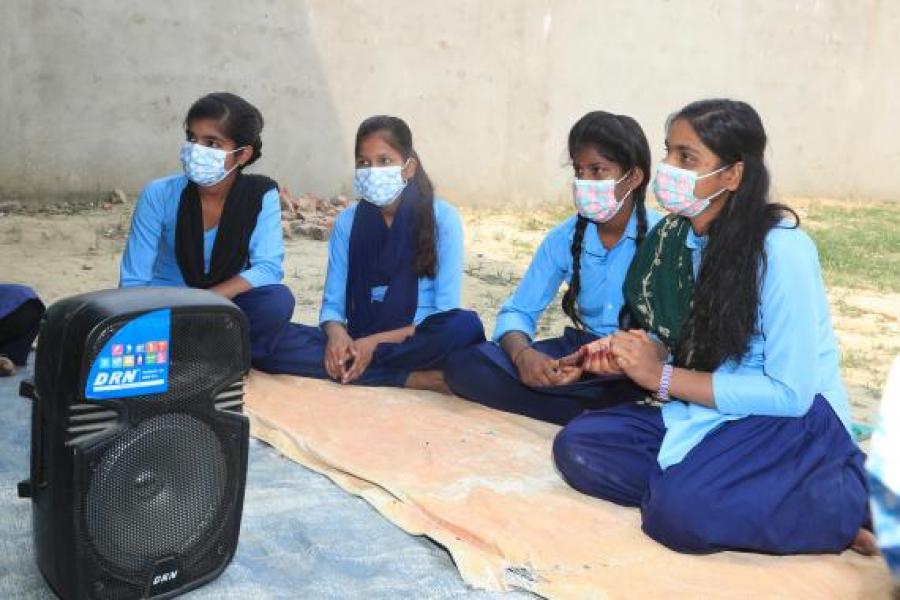 This particular conversation was prompted by a recent episode of the Rupantaran radio programme on the theme of gender equality. The radio show is based on the Rupantaran life skills developed by UNICEF and UNFPA in collaboration with the Government of Nepal, aimed at equipping adolescents with crucial social and financial knowledge and skills.
While the Rupantaran package has traditionally been rolled out via in-person sessions, the radio version was recently prepared by UNICEF in collaboration with partner organizations,. It is presently being aired via radio stations across all eight districts in Nepal's southern plains, including Parsa, in three local languages – Maithili, Bhojpuri and Bajjika – with generous funding support from the 7 Fund.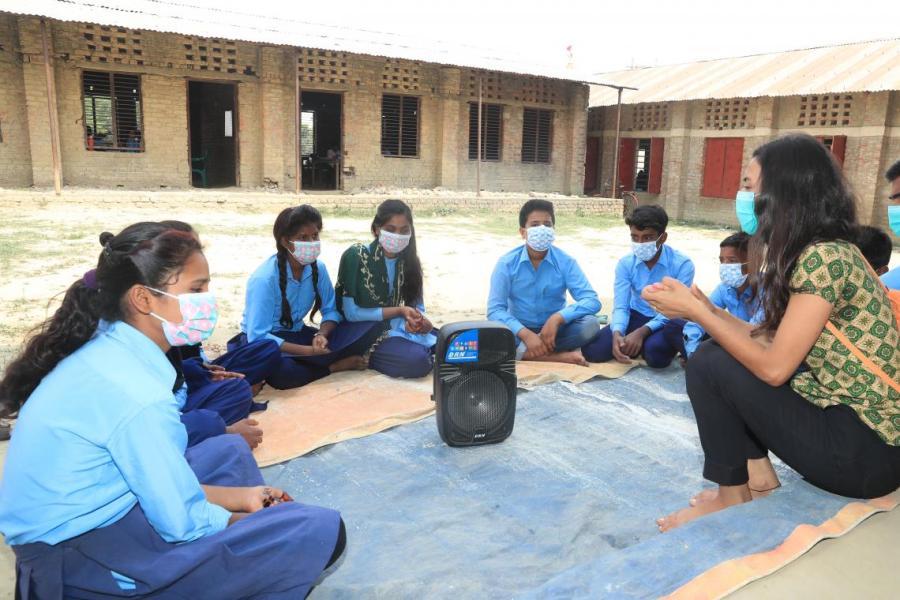 Although the show is broadcast publicly, in 120 select schools, dedicated time slots are set aside every week for students to gather and listen to the show, followed by group discussions on the various themes and content, under the facilitation of an assigned Rupantaran supervisor.
For Sakila, these focused interactions with her peers help to better "digest" what she's heard on the show. "It always makes things clearer when you get to talk about the things you've learned," she says.
AN INTERACTIVE FORMAT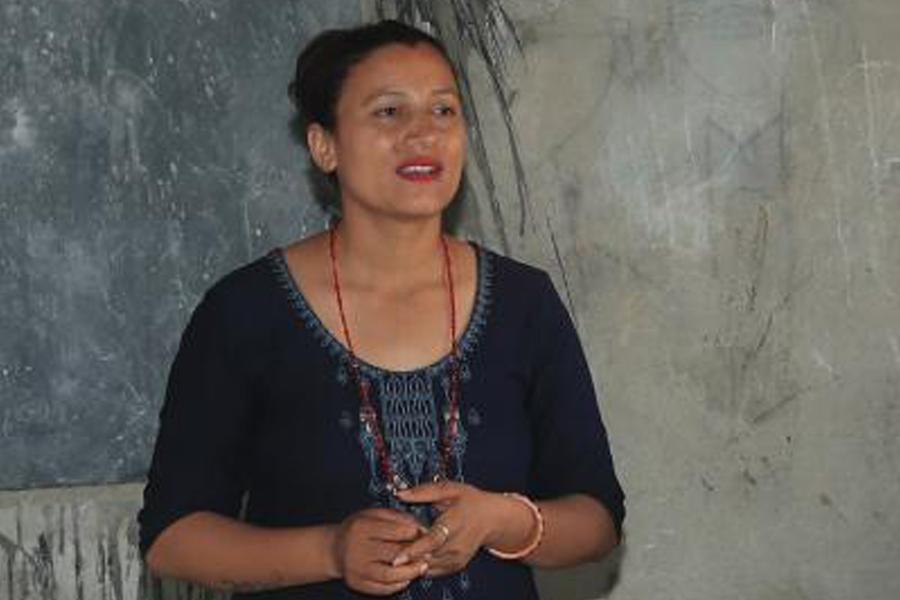 The Rupantaran radio programme had been conceived amidst the changed realities brought on by the COVID-19 pandemic, particularly school closures and restrictions in movement across the country. Radio was deemed a suitable medium to ensure that a maximum number of children and families could have access to and benefit from the life skills package.
The package encompasses a range of topics – from reproductive health, gender equality, gender-based violence, human rights, nutrition, communication, decision-making and negotiation – and seeks to capacitate adolescents with the information and skills they need to become change agents in their communities. Given the heavy themes covered, the radio version was designed to be as informal and interactive as possible, so as to engage and retain the interest of the young audience.
"We've gone for a very lively and conversational tone," says Laxmi Kharel, radio producer at the Social Organization District Coordination Committee (SODCC), UNICEF's partner organization responsible for packaging and airing the show in Parsa, Bara and Rautahat districts. "Besides scripted dramas, we also make sure to bring in real voices from the community so that people can feel a sense of ownership over the programme."
Sakila, who recently got a chance to visit the studio to record a song she had written about the ills of the dowry system, says she loved every minute of it. "I thought I would get nervous, but I didn't," she says excitedly. "I've told all my family, friends and neighbours to listen for my part when the episode airs… I hope they like it."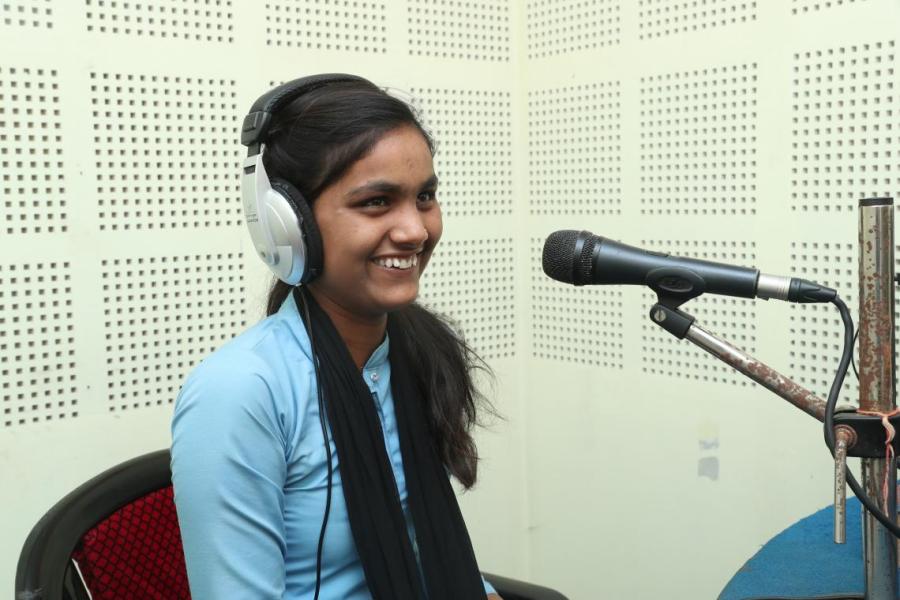 ENGAGING CAREGIVERS
It was precisely with the intention of sparking conversations within communities on key social issues that a set of Rupantaran radio episodes have also been developed for parents and caregivers. Six out of the 40 total episodes are targeted at adults.
"It's crucial to bring caregivers into the process, because they play such a big role in shaping children's lives," Laxmi explains. "We want them to understand what their children are learning, what their needs are, and be able to talk to them openly about important things."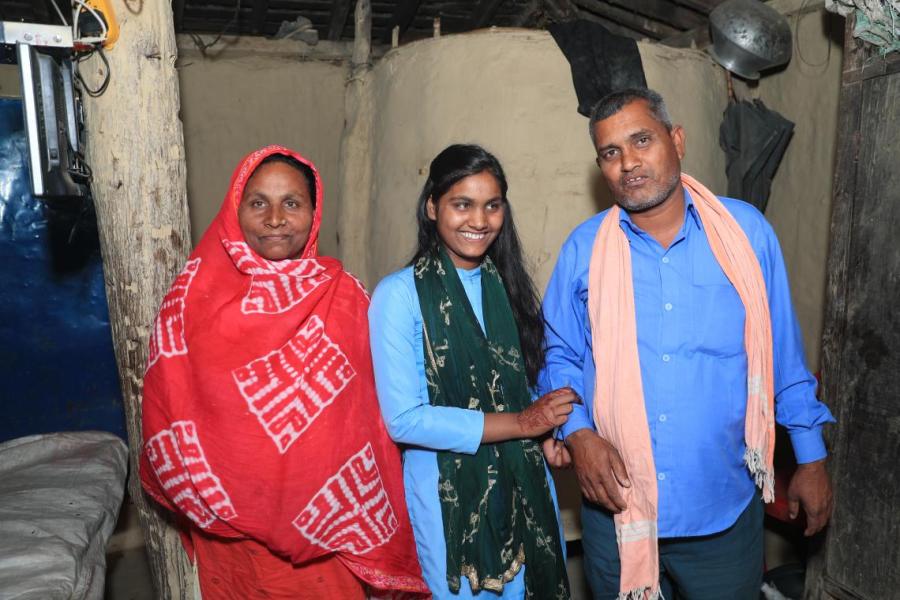 Sakila's mother Fatima, for instance, says the radio show taught her about being a better friend to her children.
"When you're raising children, you forget what it was like to be a child yourself, and what they go through," Fatima says. "I realized I needed to support them more."
The radio episodes on child marriage, and subsequent discussions with Sakila, was another point of awakening for Fatima, who was herself married "so young I can barely remember the day", and whose elder daughters and sons were also married at a young age. Nepal has one of the highest rates of child marriage in all of Asia – for both girls and boys – and the problem is particularly persistent in many conservative communities in Province 2.
"You're just not ready in your body or mind to become someone's wife, someone's daughter-in-law, at that age," Fatima says now. "I wish I hadn't rushed to marry off my children."
Father Nazir has had a similar realization. "I want my daughter to stand on her own two feet and feel that she has us to support her in what she wants to do with her life," he says.
And what is it that Sakila wishes to do?
"It changes often, but for now I want to become a police officer," she says. "People respect you, and you have the power to take action against those who break the law. I want to do that."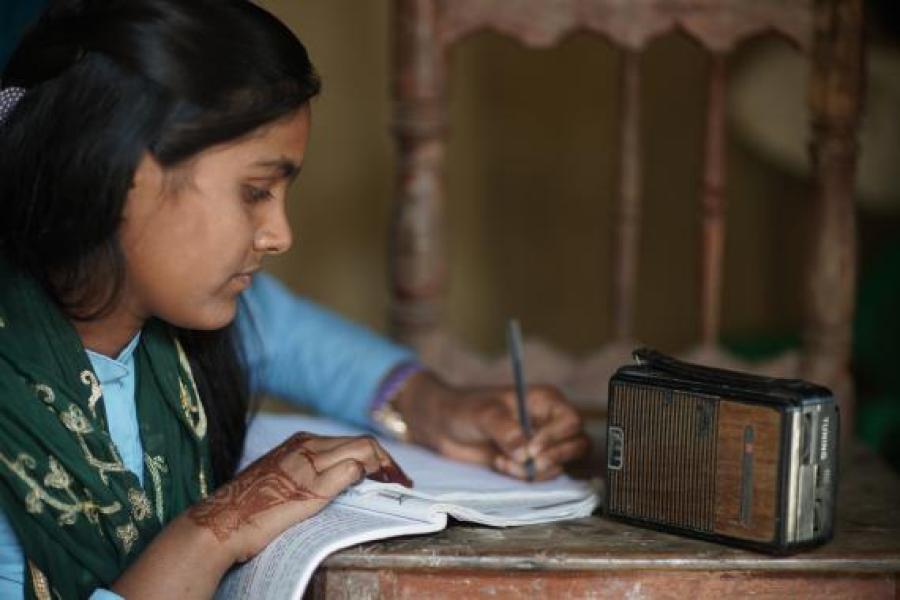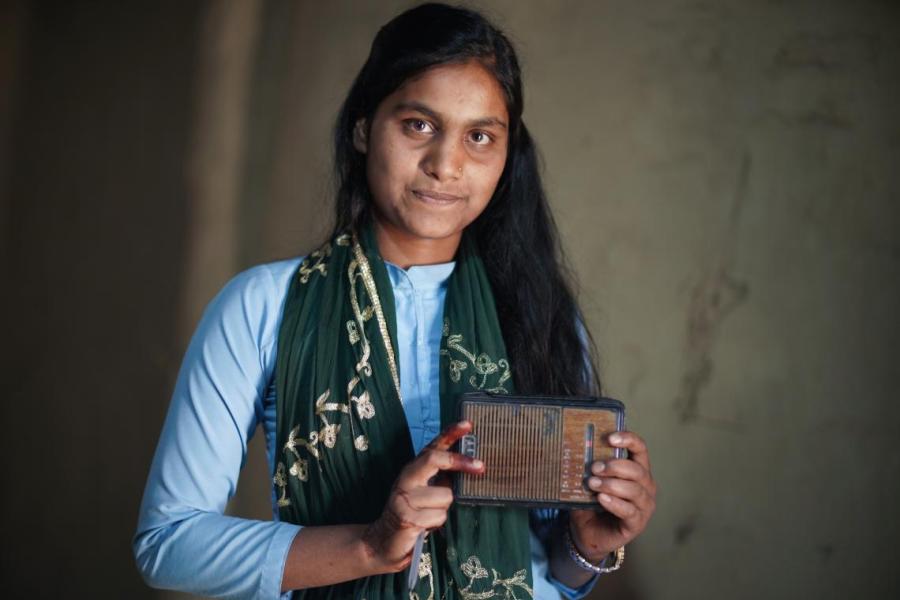 UN entities involved in this initiative
UNICEF
United Nations Children's Fund