Supporting Most Vulnerable Migrant Returnees to Meet Immediate Needs 
To meet the emergency needs of the people and to help Nepal build back better, the United Nations provided the UN Secretary General COVID Response Fund to Nepal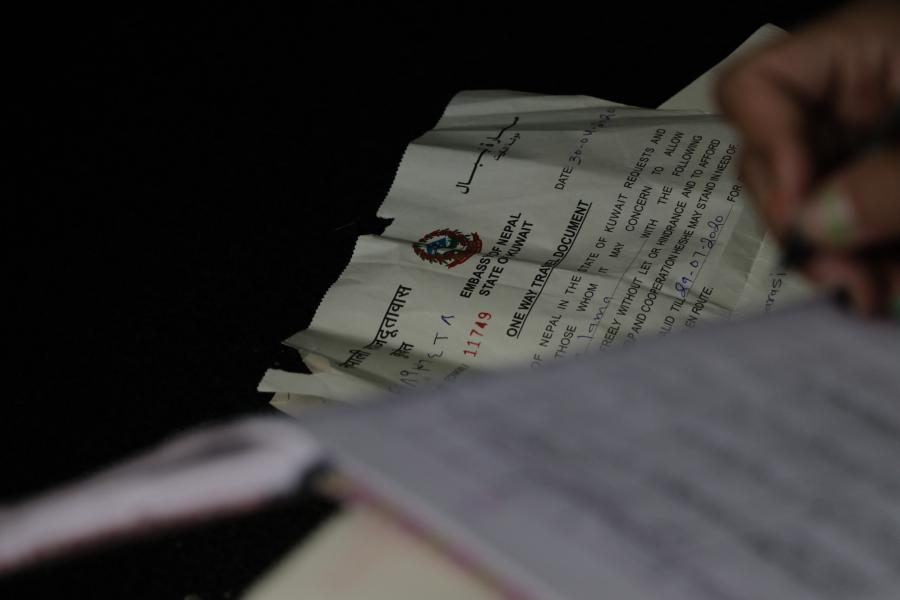 Pabitra Jimba, (31) from Makawanpur District had been in foreign employment for over six years and had been able to support her family back home before she lost her most recent job in the United Arab Emirates to COVID 19. She had been stranded in that country for five months without job before she returned to Nepal in mid-July. She purchased flight tickets on her own as no one – the employer, host and home governments – provided her with support. 
Similarly, 27-year-old Sarita BK (name changed), originally from Morang district was on her way to Kuwait in March via India but was caught up by the nation-wide lockdown in India and got stuck there for next four months. Unaware that she was travelling undocumented without a work permit, she managed to arrive in Kathmandu in early July with support from various organizations and her relatives. She is a divorcee and is the sole breadwinner of her three-member family.
Those are only examples of vulnerable Nepali returnee migrants hard-hit by the COVID 19 pandemic.
According to the Government of Nepal, COVID 19 Crisis Management Committee (CCMC), a total of 51,441 Nepali migrants have been repatriated from abroad as of 14 August. According to various sources, an estimated 127,000 Nepalis abroad were in need of immediate assistance and 450,000 migrants excluding those working in India are projected to lose their jobs. This leaves migrants' families facing the risks and acute consequences of not being able to afford basic needs such as food, education, health and nutrition.  
With hundreds of thousands of Nepalis back home, and those working in India also losing their jobs and 500,000 Nepali youth entering labour market every year, Nepal's unemployed population is set to be unprecedented. 
Nepal, where contribution of remittances to GDP in 2019 was equivalent to 27.3 per cent, lost nearly 50 per cent of remittances in April and May compared to the same period last year according to the Nepal Rashtra Bank, the country's central bank's report published in May 2020. This clearly indicates that the socioeconomic effects of the crisis in Nepal are expected to be devastating to its national economy and the overall achievement of the sustainable development goals (SDGs). 
Under these circumstances, the road ahead for the returnee migrants like Pabitra and Sarita does not look an easy one as the Government of Nepal faces a big challenge of reintegrating returnee migrant workers in the national labour market. This requires a comprehensive plan for the creation of employment opportunities, matching skills and interests of returnees as well as needs of the national economy.   
In order to meet the immediate needs of the returnee migrants like Pabitra and Sarita, a total of 97 (89 female and 8 male) returnee migrants have received direct assistance from the International Organization for Migration (IOM) as of 31 July 2020 under an initiative supported by the United Nations Secretary General's COVID Response Fund.
The underlying economic and social vulnerabilities of Nepal are further compounded by the COVID-19 pandemic. The country-wide lockdown, global economic disruptions and resulting impact on global value chains, plus restrictions in global travel and trade are already severely impacting Nepal's economy and people's livelihoods. Those most impacted persons include migrants, both internal and returning from abroad; informal sector workers; and workers in the tourism industry. These sectors are large contributors to Nepal's GDP. The loss of income is felt at individual and household levels, raising concerns about the means to meet essential daily expenditure including food.
In order to meet the emergency needs of the people and to help Nepal build back better, the United Nations provided the UN Secretary General COVID Response Fund to Nepal. The fund will also provide immediate livelihood support and reintegrate the most affected community into employment. The aim of the fund is also to alleviate potential social consequences of a desperate economic situation, including suicide and other negative coping methods such as child labour or child marriage. The fund focused on persons who have the least means of managing external shocks also aims to prevent the loss of development gains among the most vulnerable persons in Nepal.
The UN COVID-19 Response and Recovery Multi-Partner Trust Fund is jointly executed by ILO, IOM, UNDP and UNESCO in Nepal.  
UN entities involved in this initiative
ILO
International Labor Organization
IOM
International Organization for Migration
UNDP
United Nations Development Programme
UNESCO
United Nations Educational, Scientific and Cultural Organization